A badly painted window looks a mess and very often using masking tape on the glass makes the job even worse. Because the tape is there, there is a tendency to take less care and the paint seeps under the edge of the tape making a right royal mess on the glass...
Never fear....Using a window scraper as seen below makes cleaning the window easy. Simply push a new hobby blade into the plastic holder and you have a very sharp scraper which slides across the smooth surface. For only £3.29 this tool could save you a lot of money!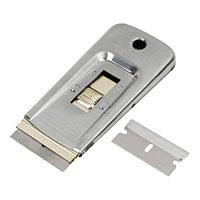 The same scraper can be used to scrape unwanted transfers from ceramic tiles. Once the transfers have been removed it is advisable to rub over the tile surface hard with a cloth dipped in white spirit. This should remove any remaining adhesive.