Screw sizes are a mystery to most people so we have tried to make life a little easier with the metric imperial screw conversion chart below.
A wood screw is sized by two different numbers. First is the diameter of the screw – the larger the number, the larger the diameter. A number 4 screw is much smaller than a number 12 screw.
The length is given next and it should be remembered that the length given for a screw is the length that is buried in the wood or other material, it does not include the head of a raised, or domed headed screws.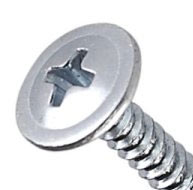 Slotted screws are fast becoming history and cross head screws are now the fashion but it must be remembered that a cross head screw can either be a Philips screw (above image)or a pozidrive/supadrive screw (below image). They both require a different driver which can be found below.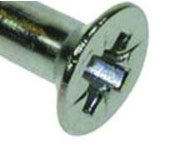 See also our projects on different types of screw and how to countersink.
Metric Imperial Screw Conversion Chart
Gauge (mm)
Length (mm)
Imperial Size
3mm
12
4 x 1/2
16
4 x 5/8
20
4 x 3/4
25
4 x 1
30
4 x 1 1/4
40
4 x 1 1/2
3.5mm
12
6 x 1/2
16
6 x 5/8
20
6 x 3/4
25
6 x 1
30
6 x 1 1/4
40
6 x 1 1/2
4mm
12
8 x 1/2
16
8 x 5/8
20
8 x 3/4
25
8 x 1
30
8 x 1 1/4
35
8 x 1 3/8
40
8 x 1 1/2
45
8 x 1 3/4
50
8 x 2
60
8 x 2 3/8
70
8 x 2 3/4
4.5mm
25
9 x 1
30
9 x 1 1/4
35
9 x 1 3/8
40
9 x 1 1/2
45
9 x 1 3/4
50
9 x 2
60
9 x 2 3/8
70
9 x 2 3/4
75
9 x 3
5mm
25
10 x 1
30
10 x 1 1/4
35
10 x 1 3/8
40
10 x 1 1/2
45
10 x 1 3/4
50
10 x 2
60
10 x 2 3/8
70
10 x 2 3/4
75
10 x 3
80
10 x 3 1/4
90
10 x 3 1/2
100
10 x 4
6mm
30
12 x 1 1/4
40
12 x 1 1/2
50
12 x 2
60
12 x 2 3/8
70
12 x 2 3/4
75
12 x 3
80
12 x 3 1/4
90
12 x 3 1/2
100
12 x 4
110
12 x 4 3/8
130
12 x 5 1/8
150
12 x 6