Shower Panels Instead of Tiles?

When DIY'ers install a bathroom and add a shower the first waterproof thought is ceramic tiles. Things are changing quickly in the bathroom world however and shower panels are fast becoming the way to go.
There are many types of shower panel on the market. Aquabord, Mermaid, Aquapanel, Wetwall, Minerelle, Aquamura, and so on. These are all Trade names for waterproof panels made specifically for use in the bathroom.
Their installation is so much easier than tiles and, if installed correctly, they are maintenance free and the joints do not go brown or black with mildew or mould.
They can generally be used with any type of shower especially concealed showers although it is best to check with certain manufacturers whether their particular panel is suitable for power showers.
Our favorite is Aquabord and when ordered from IPSL it can be bought in kits made up from panels 2400 x 1200mm. These panels are 10mm thick and faced with a hard laminate which is totally waterproof. The panels have Polyfoam backing to make them really light and easy to handle. Click on any of the images to read and see more about Aquabord shower panel kits.
The main problem with ceramic tiled bathrooms is the leaks which are mostly caused by poor grouting between the joints of the tiles. The real difficulty is that although a joint may be leaking, in many cases it is impossible to find. No such problem exists with shower panels.
There is usually just one joint and if this is put together in accordance with the manufacturers instructions using the recommended sealants etc it will be guaranteed for 15 years. No such guarantee comes with the arduous task of covering the bathroom wall in tiles!

Benefits of Decorative Shower Panels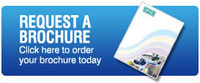 These sizes usually enable the shower area to be clad in just two panels, at right angles to each other and joined by one jointing bead. The edges of each board are covered with an edge trim or external corner and matching skirting boards are available for decoration on otherwise plain walls.
Bathroom and shower panels can be installed over existing tiles in bathrooms and come in either plain, or in a huge variety of patterns. They are warm to the touch and can be wiped clean and because of their inherent warmth will reduce condensation problems in the bathroom. The panels can be simply stuck to existing walls and most manufacturers will actually sell shower kits. These kits, based on the experience of thousands of showers, are for two or three wall showers and include everything required to finish the job.
Good suppliers will offer full installation instructions and most have these in downloadable format from their websites.
How to Fit Decorative Shower Panels
As a general rule it is advisable to leave shower panels in the bathroom for half an hour or so before installation begins. Bathrooms are hot and humid places and any material needs to adjust to the area it is to be installed in to minimise movement after installation.
Make sure all surfaces are clean and any painted surfaces must be sanded to give the adhesive a good key. Always seal newly plastered walls and see our Painting New Plaster project in our projects area for how to do this. You can click on the link to the right of the page to order a brochure showing all of the available kits and colours etc.
Measure for your panels and cut with the face side up. Always double check your measurements before you cut anything. Panel adhesive is applied to the walls just as you would when tiling. Use a notched trowel (see our ceramic tiling projects) to form a grooved covering and do not leave any spaces for air to get into and expand. The panel should not be taken right down to the shower tray as some movement must be expected. Leave the panels a couple of mm short and fill the gap with a recommended sanitary sealant. This applies at ceiling level also.
Most manufacturers, and definitely those dealing with PVC, uPVC or plastic panels will not allow the use of Solvent adhesives and sealants. This is because the solvent melts the PVC.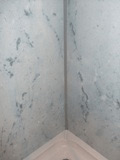 The corners are joined using a corner bead or trim which sits behind the panels as shown in the image left. Each one of the side panels pushes against the two central rubber lugs. Sealant is applied to the sides before the panel sides are pushed in, when both the panels are tight against the corner bead and stuck to the wall.
The finishing cap is pushed into the two lugs after sealant is applied to the gap. This gives a completely water-tight seal and even if a drop of water gets behind the finishing bead it cannot do any damage as the corner bead itself is stuck to both of the shower panel board sides. Ingenious solutions for a great DIY product. Quicker than tiles and as expensive as you want it to be.

If you go to our video section on showers you will find a two part film on "installing a bath tub shower screen" which might be useful if you are just thinking of installing a shower door.