If your garage is so full you cant even get a bike in, or your office paperwork from 1995 is piled in heaps on bending shelves, it might be time to think about renting a storage unit. Maybe you are having an extension built or decorating some rooms, Storage units can be rented for a month to keep everything safe and clean while the work goes on. Storage units come in all shapes and sizes, especially those from Southwick Storage , where you can even have a storage unit delivered to your home (home storage)! A unit (usually in the form of a 8 x 10 foot container, can be delivered to your drive. You can store your furniture (furniture storage) in it while the work takes place and its picked up for you when everything is back indoors.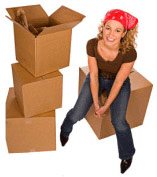 Legally, businesses are obliged to keep many documents for a number of years (safe storage). This can cause real frustration in a small office (office storage) and we know of many business owners whose lofts are bulging with 10 year old paperwork. The loft is great, and its cheap, except of course when you actually have to dig out the 1999 accounts from a box buried deep amongst others. What better reason for having neatly labeled boxes in a secure (secure storage) environment, just round the corner. You can get to your possessions, using your own secure key, 24 hours a day and they are all out of your way.
Here are a few tips to get the most out of your storage solution.
Always pack strong and sturdy boxes as tightly as possible to avoid breakages.
Never pack anything that is even slightly damp. Mildew will infest everything in no time.
Stand furniture such as sofas and mattresses on end wherever possible to save space and never load too much on top of soft furnishings.
Give your furniture a good spray with polish before storing. This applies to leather furniture also, spray it with leather conditioner.
Try and plan your storage to get the maximum benefit from a small space. You can save 50% of the cost if the packing is well thought out.
Put the largest items in first and fill any spaces with smaller items.
Always label every box, it will save you hours when you need to unpack. Make sure you can see the labels!