Sweeping a chimney is usually left to the professionals and these days it is done by powerful vacuums and other top quality equipment. This equipment can be hired from Tool Hire stores found on most local Industrial estates.
However, if you really do want to sweep your own chimney, in a traditional way, read on:
Firstly cover everything in the room with dust sheets and turn your hoover on. Have the hose lying on the hearth. A word of warning here is to make sure you do not try to sweep the chimney for at least 12 hours after the fire has gone out. Soot can stay hot for a long while.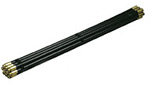 Use a good quality drain, or chimney sweeping rod set and affix the brush tightly. The rods will screw together in a clockwise direction so, when turning the rods as you push the brush up the chimney, make sure you turn in a clockwise direction.
This will keep the joints on the rods tight. If you twist the rods in an anti-clockwise direction there is a good chance you will undo a joint and get the rods and brush stuck up the chimney.
Using one rod with the brush on, push the brush up the flue. Twist slightly (in a clockwise direction) until you can only see 300mm of the rod. Attach another rod and repeat. Do not attempt to push too hard. Just a little at a time will dislodge small areas of soot and this will be much easier to manage than a lorry load pouring down all at once!