The natural beauty of oak timber is hard to beat.
A very frequent question to diydoctor is whether or not planning permission is necessary for a hardwood conservatory. In most cases it is not, but of course there are exceptions. Should planning permission be necessary in your case, there is plenty of advice and assistance available. Permission will always be required if your house is a listed building or in a conservation area.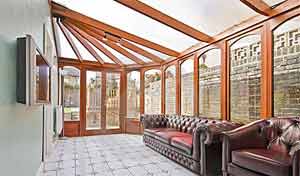 Examples of bespoke hardwood conservatories and orangeries can be seen in the images above. Many oak conservatories and orangeries can be made to measure to suit your house and garden. It is not only Oak that conservatories are available in but also a range of other hardwoods. You'll also want to consider aspects such as the thermally efficient heat reflective glazing including the latest celsius glass technology, high security locking, dwarf walls and so on.
It is, we believe, very important when choosing a timber conservatory, to make sure the timber that is to be used has come from a sustainable resource. The timber is treated after being fully seasoned and with the correct maintenance guidance, will last for many decades whereas many plastics will irreversibly discolour. A fresh application of wood stain oil or micro porous paint every few years will keep it looking grand for decades.