Jigsaws offer the ability to make curved and straight cuts in many materials but it has to be said that, if you have much straight cutting to do, use a circular saw rather than a jig saw. Jig saws are not really designed for straight cuts and its much better to stick to curves or intricate work with them.
Buying a jigsaw is not the same as buying a good jigsaw! Jigsaws are very versatile tools but the wrong one can make life really hard. If ever there was a case for spending a lot of money on a tool a good jigsaw is where it should be spent.
With cheaper jigsaws the blade is held in by a clamp which is tightened by either a screwdriver or an allen key. Do not buy a jigsaw like this. The threads on the screw allow sideways movement, sideways movement in the blade means it is impossible to get a straight cut even when using a guide. Always buy a jigsaw with a blade lock and release system.
Its also important that the sole plate on your jigsaw is rock solid. The sole plate is designed to be set at different angles and just like the blade holder, this movement can be exaggerated over time leading to poor control over the blade. Make sure your sole plate locks solid.
Cheaper jigsaws use a reciprocal cutting action for the blade. This means simply that the blade just goes up and down. Better jigsaws have a pendulum or orbital motion set into the motor which (on different settings) allows the blade to move backwards and forwards at an angle as well as up and down while you are cutting.
This allows for a much more aggressive (therefore faster) cut and at the same time, by moving the teeth away from the material, it allows any debris to fall clear of the teeth. This stops the saw from binding on the material and burning rather than cutting through it.
A jigsaw needs to be powerful to maintain a decent cut. A variable speed is essential as the difference between cutting timber as opposed to perspex needs to be about 1000 strokes per minute. If you try and cut perspex at the same speed as timber, it just melts.
For most DIY jobs a jigsaw of about 600W will do the job. Pros will use a 720W jigsaw.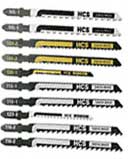 Blades are also important. Cheap blades go blunt very quickly. A blunt blade has to work much harder to cut which puts a tremendous strain on the motor. It also makes you try to push the jigsaw through the work which may damage the blade housing and scorch the timber.
Never force a jigsaw to go anywhere, they are hard enough to control accurately at the best of times but if you try to push the blade any faster than it wants to cut, you will spoil the work.