A Table Saw is a very useful woodworking device, which mainly consists of three items, a level work platform, cutting disc and an electric power unit (600w – 2000w). The cutting blade / disc is raised up through the work platform to create different cutting depths. The working table has side guides which can be adjusted to give a constant and correct depth/width of cut and a folding down blade cover and waste director.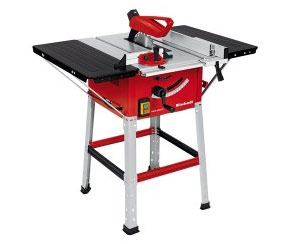 Click on any of the images to find out more about table saws and roller support trestles.
On larger tables there will be an extractor connected to the blade cover to vent all waste and dust to a sealed waste storage unit. Woodworking dust and splinters always carry dangers and we always recommend using dust masks and goggles with any type of cutting/sanding machine related to wood working.
All moving or adjustable parts to woodworking machines should have locking nuts and the entire machine should be fixed solidly to the working surface to prevent movement while cutting is in progress.
Although a table saw is a very basic design concept doing "exactly what is says on the tin" it must be handled with care. It cuts to a set depth and a set width and is especially used for cutting long lengths of timber which can be awkward and dangerous. When feeding long lengths of timber through a table saw we recommend using a roller table, set to the exact height of the saw, to support the timber while it is fed into the table saw.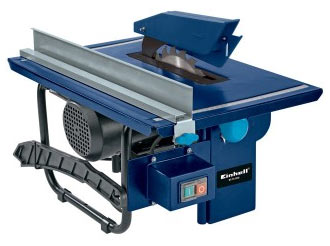 Before using a table saw it is essential to make sure the table section is level and most important stable as you may be guiding timber in to the blade from a small distance away.
For the final few inches of a cut or smaller pieces of timber; before you start your cutting process, make sure you have a small piece of wood to hand (about a foot long will suffice). This will allow you to continue to push your timber through the cut so your hands do not get near to the cutting blade.
The main advantages of buying a table saw is the considerable saving of money made by buying larger pieces of timber and cutting them down to the size you need for your project. It is 100% cheaper to buy a length of 150 x 25mm timber and cut 5 lengths of 25 x 25mm timber from it than it is to buy 5 pieces of 25 x 25mm timber!
Always remember to bear in mind when measuring your cuts, to compensate for the width of the saw blade.
As always at DIY Doctor we advise the use of purpose built tools for DIY use. Safety must always come first before anything. Wear the appropriate safety equipment and make sure you keep cables, fingers and other body parts away from the blade at all times.