Wrecking Bars have many names most are regional influenced names, but usually called crowbar, jimmy, pry bar or as listed above, wrecking bar.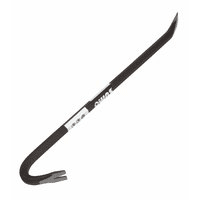 A Wrecking Bar is a heavy metal device with one end flattened, split to create a 'V' for pulling nails from objects and curved so can be used in a lever action.
The other end is machined into a chisel shape to be used for prying items apart again with the action of levering. This end can also be driven in by using a hammer on the small flat place on the crook of the bend in the wrecking bar.
Wrecking Bars normally come in sizes that range from 12" – 48" and made out of machined hexagon shaped metal rod which increases its strength / rigidity when being used.
Bars are now being produced in bright colours so can be seen or found in a working situation as these tools are normally related to a demolition situation of work where there will be a lot of debris.
The variants of this tool can be found in the top tools section to the right of the page.
As always at DIY Doctor we always recommend the use of safety and protective gloves, dust masks and eye protection.