Unbelievably food represents 23% of our household waste. Mountains of food are placed in all sorts of recycling depots all over the country when a great deal of it can just be flushed down the sink and turned into excellent fertilisers and soil food once it has been treated. Waste disposal units can achieve this and are not difficult or expensive to install.
Broadly speaking there are two kinds of waste disposal. Some waste disposal units cut the waste into shreds using rotating blades which can be quite noisy and do tend to take a little longer to shred up the harder items of waste. Blades also have a habit of cutting the waste into stringy lengths which can potentially block standard waste pipes. The other type of waste disposal unit is rather like the grinding wheel in a stone quarry. A grinding wheel rotates inside a serrated edge and crushes the waste into easily disposable, tiny lumps. This kind of unit can cope with far tougher waste including, in a lot of cases, small bones and fruit stones.
You can generally tell the quality of a waste disposal unit by how quiet it is but the actual composition of the sink can affect this. Waste units installed in stainless steel sinks are noisier than those set into ceramic or plastic bowls.

Most modern sinks, especially those with 1½ bowls, can take a waste disposal unit with a 90mm outlet. Adapters can be bought for sinks and waste units to match most units to most sinks. This is especially true of the higher range units, some of which actually come with adapters. After the unit is connected to the underside of the sink following the manufacturers instructions, most manufacturers recommend at least a 40mm if not 50mm waste pipe system to take the waste to the drains. Bottle traps should not be used with most waste disposal units. See our projects on waste systems to understand what a P trap is and how a U bend works.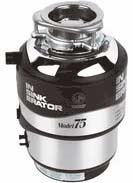 To wire up a waste disposal unit you need to fit a 13 amp fused connection unit with a flex outlet. This unit has incoming terminals marked on the back together with the outgoing, or load connections. Fixed connection units can be bought without the extra flex outlet but this means a flex unit also has to be installed.

Please check when working with electrics that you are within the new laws and not breaking Part P of the building regulations. Please click on the link to see the project.
Most waste disposal units come in ranges of Economy type, Mid range type and Luxury type. The more "luxurious your disposal unit, the more it can cope with in less time in a quieter way.
To watch a 5 part video on how to set up a compost bin in the garden, go to our video section by clicking on the link.