For years wetrooms were limited to ground floors and had to be sited on a concrete, or at least screeded, base. Living house can now offer a unique solution to the long awaited upstairs wet room. Click on any of the links below to get through to Living House web site where you can get full details and buy your dream shower room.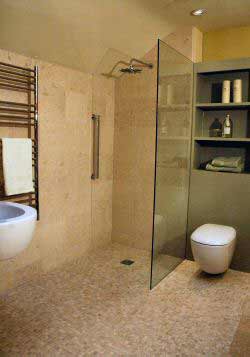 This project page is all about the processes involved in preparing and fitting a wetroom using the Living House Aquafloor wetroom tanking system.
The various aspects are discussed by using the menu below.
If you wish to purchase one of our wetroom kits, please refer to the menu below which will take you straight to our online store. You can also view and purchase from our extensive range of bathroom accessories.
TO PURCHASE the wetroom kit, click on the links below for immediate delivery.
Additionally, take a look at the extensive range of bathroom accessories.
Living House also offer the following services
For more information and to email or talk to a representative of www.livinghouse.co.uk click on any of the blue text links or any of the images above.
Why not check out our video section on showers and watch the film on "tiling a shower surround" for one option of installing a shower in the bathroom.