Whether you do not have enough electrical sockets in your kitchen or you are installing a kitchen and do not want to tile around sockets in the wall, concealed worktop sockets are the answer for you. Easily installed in the worktop, these sockets can be pulled up to give you access to 3 sockets which can be used for any portable electric appliance.

The finished article is fitted with an integral seal which, when the socket is closed, will not allow liquids spilled onto the work surface to run down into the socket itself. Fold down handles on the top of the socket allow you to easily pull up the socket for use at any time. Installation is easy using the following guide.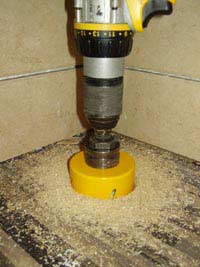 Use a holesaw of the size recommended in the manufacturers instructions. In this case, 80mm. Make absolutely sure you have measured the correct distance into the kitchen unit the worktop is sitting on. Most units sit about 60 or 70mm away from the wall they are fixed to with a "false" back to allow the passage of pipes, cables, washing machine and dishwasher hoses etc. Using an 80mm hole as in this case, the centre of the hole needed to allow for a 60mm false back to the unit plus a 15mm thickness of unit back timber plus 10mm "tolerance" plus 40mm as the radius of an 80mm hole saw drill bit. This totaled 125mm and as the hole was to be placed in the corner of the worktop, the 125mm needed to be measured from both walls.
The centre of the hole saw drill bit contains a pilot drill fitted into the arbor (see our related projects to the left to find "Using a Hole saw") so place the pilot bit onto your mark for drilling and start to drill. Keep firm, even pressure on the drill until you feel the pilot bit go through the underside of the worktop. Stop the drill and place it under the worktop with the pilot bit in the hole you have just made. Drill upwards about 10mm and then return to your original position at the top of the unit. The reason for drilling from underneath for a few mm is to stop the worktop splitting when the holesaw gets all the way through the unit.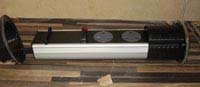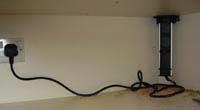 Dismantle the socket components and push the lead and socket section through the hole. Screw the underside "washer up" to the main body of the unit and (checking to see that the sockets are facing the right way!) tighten fully. Have a hoover up and you are done. For various types of sockets and electrical components click through to Neweys Online and browse through their extensive selectrion.