Safety workwear is a must. Not only does it save you a fortune in jeans, jackets and shoes but it can stop important parts of you being hurt very badly!!
Joking aside, wearing safety clothes and shoes can make life so much easier. So many times we have seen guys on site with a 50p pair of trainers on get taken to hospital because of something as simple as treading on a nail or dropping a brick on their toe. The result is 3 days off work at £100.00 per day = a massive £300.00.......The average cost of a pair of safety shoes = £40.00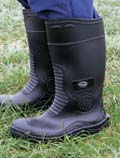 You do not have to be a genius to work out which one of those is more cost effective!
Work shoes are even attractive these days, with safety trainers and wellies there is no need to feel like you are walking about with divers boots on.
Steel toecaps, chemical resistant, fleece lined and all for about £15.00.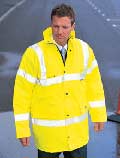 If you are on site late, or even late afternoons when the fog comes down and darkness sets in, it pays to be seen. If you are walking the dog or just popping down the shops, it pays to be seen. Workwear is not just limited to the builders. Safety workwear can just as easily be safety leisure wear. The important part is the safety. The high visibilty jackets cost peanuts compared to the cost of tyre marks on your back without even mentioning the fact that they are also waterproof and come as a set with high visibility trousers.
There are also waist-coat type jackets for just slipping on and off when you take the dog out.
Keeping safe is so important but these days it is recognised that some safety clothing can be a hinderance. The new range of workwear is certainly not that. The trousers and jacket below give plenty of room, are lined for warmth and will withstand the hardest of working days.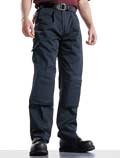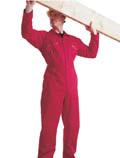 Whether you are rebuilding Liverpool or just doing a few odd jobs around the house it does not make sense to wear unsuitable clothes. Its not safe and its expensive. Safety clothing can also be fire retardant, completely waterproof and there is a range of country clothing to suit all tastes. Everything from heavy duty socks to wax body warmers! Stay warm, stay dry and above all, stay safe.
Check out our video section on "power tool safety" to watch some films on how to work safely with both hand and power tools.