While the weather for many of us is still quite mild, it is a good time to get up in your loft and insulate. You can lose up to 15% of your heating through your roof if you don't have insulation, and this can equate to a loss of up to £155 a year!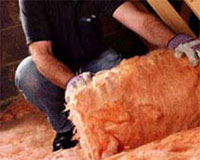 Top tips on loft insulation:
Clear all rubbish and clutter out of the loft.
To stand in the loft use a length of board about 25mm thick and at least 1.3m long, to lay across at least 3 joists. The ceiling joists themselves are not meant to be stood on as they are not load bearing and the gaps in between the joists are 12mm plasterboard which will not support the li8ghtest of humans!
Use a proprietary lead lamp to provide adequate lighting in your loft.
It is very important that your loft is ventilated. Poor ventilation leads to condensation forming in the loft and this condensation can soon rot roof timbers and cause structural damage. If there are no roof windows  then follow the loft floor along to the point where the roof comes down to meet it. At this point (called the eaves) there should be a gap between the underside of the roof and the outside wall. This gap should be about 25mm wide and will usually have a meshed grill within it stopping insects and birds getting into the loft. Any cracks or holes in the ceiling should be filled before laying your covering.
All wiring in the loft must be lifted and laid on top of the insulation otherwise the cables will overheat and become a fire hazard.
See our project on loft insulation and how to fit it for more information.