Review of new PagePlus X5
The DIY Doctor office wanted to share with you our views on Serif's new PagePlus X5 for professional Desktop Publishing:
'On first impressions and having never used Serif products in the past I found the install process to be quick, easy and straightforward.
Once installed, the intro screen is quite intuitive and easy to understand for a novice user. It allows you to easily pick the task you would like to embark on. You can either create a new publication, use one of the many pre-loaded templates within the programme or even visit the online help files to learn the basics of how to use PagePlus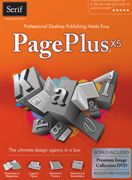 The programme comes loaded with a great many templates that cover pretty much any form of business stationary you could wish to create from business cards to CV's to Newsletters.
Once you have selected the type of stationary you would like to create (in my case some headed business paper) the template opens into the canvas area with a pop up box allowing you to complete all the necessary details from web address to company name and these are inserted into the document for you.
In respect to the editing of a document, this is achieved easily. If you have had any experience with the use of programmes such as Microsoft Word, Paintshop, Photoshop etc…. and the basic operations of these programmes, then PagePlus employs very similar menu's and layouts. It even works in layers!!
Overall, PagePlus is a very useful programme to have in your arsenal. It allows you to quickly and easily create professional looking documents for your business, helping any user to add a professional touch and image to themselves and their company.
In respect to this point it is especially good for small businesses such as builders and tradesmen as they now have the ability to produce all of their own business documentation that would otherwise cost a great deal if completed by a printing company.'
For more information see www.serif.com