Workmate inventor Ron Hickman dies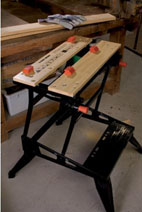 The inventor of the Black and Decker Workmate, Ron Hickman, has died aged 78.
After struggling to find a company who would take on his workmate invention, it was Black and Decker who eventually took it on in 1972 after which the product was a huge global success, with 10 million workmates sold by 1981. As a spokeperson for Black and Decker said "His effect on the world of DIY is immeasurable."
Mr Hickman  also worked as a car designer for Lotus and was the designer behind the Lotus Elan.
He had moved to Jersey at the end of the 1970's, and this is where he died yesterday after suffering illness following a fall several months ago.