Garage door – project completed
The Bank Holiday was unfortunately bit of a wash out for many parts of the country – including down here in the South West. As the weekend was pencilled in for Karen to get the garage door completed, all eyes in the office were on the weather forecast!
Luckily, Saturday wasn't too bad and as the day progressed the weather improved enough to give Karen time to prepare the woodwork of her garage door ready for painting on the undercoat. As the door had some resinous oozing, these areas were rubbed down and treated with a knot inhibitor to prevent further resin spoiling the finish. This was allowed to dry then given a light sanding before the garage door was undercoated.
Sunday was a bit grey but again the afternoon cleared up enabling Karen to give the undercoated door a light sand ready for the top coat.
With a little help from her hubbie to reach the top of each of the door panels, the two painters worked together against the clock to beat the threatened rain. Things progressed very quickly and the door was finished in next to no time!
Karen says 'Without the help from Iain I would have struggled to reach the top of the doors and still get a good finish. Although the weather looked ok-ish when i started, it soon became apparent that without his help it would not have got finished before the rain set in. Although it started as a solo project, I was glad to accept help and would like to say thanks for his support throughout.'
Here are the two completed doors – which we think look great.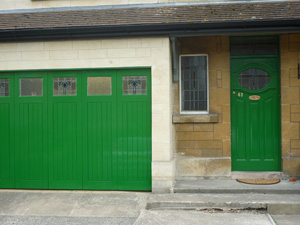 We hope that you have enjoyed tracking progress over the last few weeks, and if it's made you think that perhaps your doors or decoration could do with a bit of a spruce up, have a look at our project pages for how to's, whether you are painting doors like Karen, changing a tap, laying turf and plenty else in between! If your project isn't listed, then let us know and we will endeavour to plug the gap!
Our DIY hints and tips pages are also a mine of useful information. You may also want to check out project on stripping paint.
If the job is a bit too much to take on yourself, then click here to get to get free no-obligation quotes for your home improvement projects from reliable and insured tradesmen in your local area.