Winner of Frome DIYer of the Year Competition announced!
DIY Doctor have found their first local DIYer of the Year in Frome, Somerset. The Grand Final of the competition was held in the town on Saturday, with our three finalists Clive Baker, Fay Goodridge and Matthew Rees battling it out for the title. Fay was announced as the overall winner with Clive and Matt coming a very close second and third.
They were set two challenges on the day – first of all they had to show off their decorating skills by 'cutting in' round some lettering which had been prepared. This proved easier said than done when the nerves of painting in public kicked in! Their second challenge involved measuring and cutting a piece of timber to a specified length and then fitting a hinge to the two pieces. Both of the challenges were timed to add an extra element of tension to the proceedings.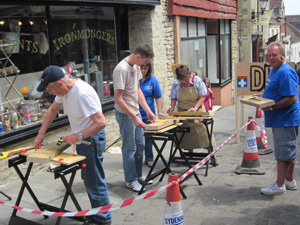 All the finalists won new tool kits with Fay also being presented with the Frome DIYer of the Year cup!
The competition was the first of the local DIYer of the Year competitions which are  part of a regional and national competition to find the Nation's DIYer of the Year.