Be prepared for guests this August Bank Holiday
If you are expecting guests this bank holiday weekend, you may well be cleaning and preparing a spare room or a comfortable place for them to sleep. But don't forget that if you are placing any orders that delivery days and times are also affected by the shorter working week.
In terms of the choice of sleeping solutions for guests, Comfy Living have made some recommendations:
Chair Beds
Chair beds are constructed from a firm foam-like filling and are best suited to children up to the age of around 10 years old. These are often called 'Z beds' or 'flop out beds' due to the simple nature of construction and children are easily able to use these in their bedrooms.
Futons
For small rooms where space saving is paramount and to accommodate guests would be a struggle with buying a spare bed, consider buying a futon to help with holiday sleepovers. Futons are versatile items of furniture, quickly changing from a sofa to a bed within seconds. Futons are available with a metal or a wooden frame and are suitable for adults of all ages.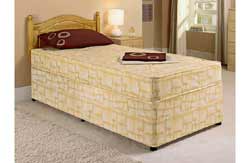 Divan beds
Divans are a seen as a permanent addition to a spare room. Budget divans have no storage in the base and come with a mattress suitable for occasional use. Options with upgrading divan beds include storage options (drawers or slide storage) with a mattress which is deeper than a budget range, perhaps to a hand tufted variety, or memory foam.
Delivery recommendations
Comfy Living have released order times for the forthcoming August Bank Holiday and would like to inform all customers of the following dates and order cut off times:
For delivery Friday 26th August order online by 3pm Thursday 25th August.
Orders taken after 3pm on Thursday 25th August and by 12 noon on Friday 27th August will be delivered on Tuesday 30th August.
Orders taken after 12 noon on Friday 27th August will be delivered on Wednesday 31st August.
Comfy Living telephone support will be up to 2pm on Friday 27th August, after which time the telephone lines will re-open on Tuesday 30th August. Over weekends and Bank Holidays there is no telephone support as the office is closed at these times.