Summer jobs – Repointing masonry
Summer is a great time to look round your home for the repairs winter has made necessary.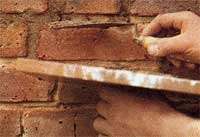 One of the bigger jobs undertaken by a lot of DIY enthusiasts is re-pointing walls and chimney stacks after the cold and wet weather has wreaked it's vengeance.
DIY Doctor can help with this job, which incidentally offers a great deal of job satisafaction, by pointing (no pun intended) you to our project on pointing and re-pointing brickwork.
You will learn why your pointing falls out, how to mix and reinstate it and the many different ways to repoint a wall.