With a chill in the air and winter fast approaching, we thought it might be time for a brief reminder of what we can do in the home to keep warm, save energy and also save money.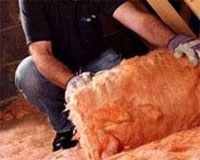 We hear it all the time, but it's true – loft insulation is the most cost effective way to keep your heating bills down. You can lose over 15% of your heating if you have no insulation, and it doesn't have to be a nightmare job to do. There are also grants available – check out the Energy Saving Trust's website.
Do a window audit. If you chose to have double glazed windows fitted, this can half the heat lost via them. Obviously this isn't a cheap option, but it is a good investment, just make sure you get a registered installer – you can get free quotes via out Find a Tradesman section. Other possibilities can be to fit secondary glazing or even plastic film on the inside of the glass, although this isn't usually a long term option. If you aren't replacing any windows, do still check all windows for draughts, as you are often losing more heat through badly fitting windows. Make sure you plug and gaps and fill any rotten wood.
Continuing on the draughtproofing idea – go round the whole house and fill and plug any gaps you find including round doors, loft hatches, skirting boards and floorboards. Arm yourself with silicone sealant and some adhesive foam strips and away you go!