Be energy Smart this season – push the 'party' button!
The party season is here!  So as a last minute check and to avoid a hefty energy bill in the New Year, Honeywell is encouraging homeowners to push the 'Party' button on their thermostats!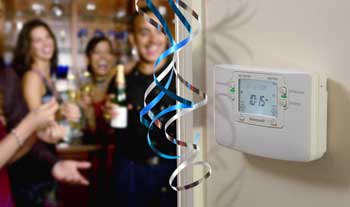 The Party button manages the heating for you at a low level when entertaining in the home –  heat can be lost due to doors left being open and guests stepping outside for a cigarette break, or the heating simply being left on unnecessarily for prolonged periods of time.  Pushing the party button avoids over consumption and reduces a homeowner's heating bills, which as exactly why Honeywell developed the function.
Everyone should be energy smart and push the Party button to save money on heating bills this Christmas, especially in the current energy squeeze…
To find out more about Honeywell's wireless heating and zone heating control systems project click here.