If you are hoping for a white christmas this year, it looks like you might be out of luck if you live in the UK and are relying on our good old British weather. So, fancy taking it into your own hands and doing a bit of DIY snow making??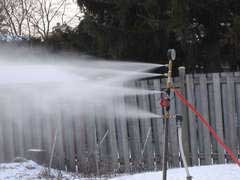 Well, at instructables.com, a user by the name of MakeSnow has put together a step by step guide to building your own snow machine.
This is an 'internal mix' snow machine using air and water, but you will need a pressure washer and air compressor and also to do a bit of extra shopping to get all the bits needed.  It does also rely on the weather being quite cold – so if you live in Australia or you fancied having a go in the summer in the UK, you'd better think again.