The cowboy builder story (Part 4)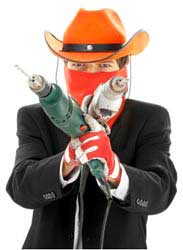 Experian, a global credit information group, lists over 515,000 companies in a huge number of categories in the construction industry. In its public database, where it uses information from Yellow Pages and other sources, there are categories ranging from Energy Conservation Consultants to Sash Window Repairers.   
However, a 2010 report commissioned by Key Note Market Research lists only 340,000 'firms (employing around 2 million people)' actually registered to the industry through HMRC, Trade Associations, Companies House.
This means there could be as many as 200,000 unregistered companies out there. These are guys that are deliberately getting under the radar in any form of registration including the most basic of requirements, Public Liability Insurance.
The Key Note House building report 2011 states that the output of the housing sector was estimated to be £32.6bn. The private sector accounts for 68% of this output, with repair, maintenance and improvement accounting for 50% of that amount.
This totals £11bn being spent in an industry where, according to the surveys, almost 40% of the industry workforce is not registered as an accountable agency!
From a survey conducted by the Federation of Master Builders in the last quarter of 2010 it is seen that 32% of registered building companies has experienced a decline in the work coming in. This, it was concluded, was due in part by more DIY work being undertaken as well as more work being given to the cheaper, unregistered tradesmen. This in turn was seen to be due in part to the increase in the VAT rate to 20%.
Enquiries to the FBM for renovation and repair work were down 25% in the first quarter of 2011 indicating that a great many home improvers are looking for cheaper ways of getting work done. This confirms what DIY Doctor has been saying for a long time. Home owners think they are saving money by employing unregistered trades.
(Source: Federation of Master Builders, State of Trade survey Q1, 2011)
While researching the number of small construction companies that have public liability insurance DIY Doctor has only been able to find information dating back to 1999 where a commercial insurance for small businesses Market Assessment was done by Key Note Market Intelligence and noted that insurance in general is a low priority for small businesses with public liability being ignored as an acceptable risk.
You can find out more about avoiding cowboy builders by using our Home Improver Protection Solution.
 Please post your comments to help us provide the best support we can for home improvers.