Tips for outdoor Christmas lights
As everyone is preparing for Christmas and many are putting up their outdoor lights, DIY Doctor would like to give some helpful tips on installing your outside christmas lights safely.
Ideally have somebody else to help you – holding ladder etc.
Make sure the lights are manufactured for use outside.
Read all manufacturers instructions thoroughly.
If you are using old lights – check them over for any damage, and if you find any are damaged or fraying – bin them!
Remember ladder safety – don't take risks and over-stretch yourself, you really don't want to end up in hospital over Christmas.
Use cable ties to attach lights to guttering supports or other bits of house that you can get to, and if possible put hooks up that can be left all year so it easier to do every year.
Use a Residual Current Device (RCD). You can buy portable units for outdoor use, or you can have them permanently installed by an electrician.
Switch your lights off overnight and when you leave the house.
Contact an electrician if you want to fit an outdoor weatherproof socket – use our Find a Tradesman service to get free quotes from electricians in your area.
Hopefully you will end up with something a bit more like this …….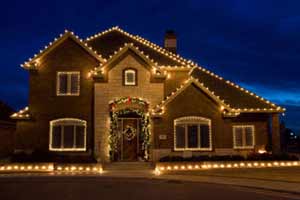 …….and less like this!