If you are looking for a whiteboard for the home or office, you could try and save some pounds by creating your own.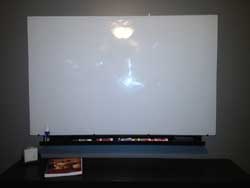 Those clever people who hang out at Ikea Hackers (ikeahackers.net) have an alternative using a white glass table top, which apparently works perfectly as a whiteboard.
They recommend the TORSBY dining table top which apparently you should be able to buy seperately in store (although doesn't seem to be available seperately online). It can be fixed to the wall using mirror fixings, and with a picture ledge fixed below for pens etc, it's ready to use! Take a look at the pictures here.
If you need advice on how to fix somehting like this to a wall, take a look at our project on Hanging Mirrors and Heavy Pictures.