Fancy a change of scenery?
If you have started the new year feeling a bit bored with your surroundings at home, now might be a good time to look at a bit or redecorating.
Many people find having taken dowm the christmas tree and decorations they take a fresh look at their interiors. It may be that just re-arranging the furniture in the living room or bedroom could freshen it up for you. But you might feel that an up-date is overdue and this is a good time of year to take on a relatively minor project you can happily do indoors!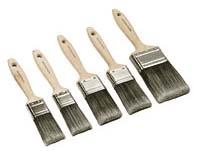 If you haven't the time or are a bit worried about doing anything too dramatic, you could try just painting or wallpapering an accent wall, and then just buying a few accessories to compliment the change. Or if you are planning a more major overhaul of a room, it is a good idea to get all your ideas, colour swatches etc together so you can make a really good plan of what you want the room to look like and the order that things need to be done in to create the transformation.
We have lots of project pages with advice to help you, from how to mask-up when decorating and advice on different types of paint brushes and rollers, to painting new plaster and hanging wallpaper.