The art of laying floor tiles
If you are updating or renovating a room in your home and are looking at laying floor tiles, we have got all the information you need. Whether you are planning on laying a stone floor or vinyl tiles, our project on How to lay floor tiles will give you sound advice.
It covers the pro's and con's of tiling over varying existing flooring, and how to tackle it, as well as instruction on how to remove existing vinyl or quarry tiles. Depending on the type of flooring you have, e.g. timber or concrete, you need to be sure to prepare the surface properly, and we have a plan you can follow when you actually come to lay your tiles.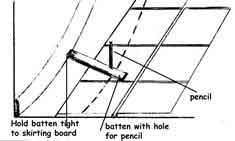 As the project states, most tiles are straight edged with angles of 90 degrees, but unfortunately most rooms are not, so it is really important that you lay the tiles square to each other and ignore the walls of the room. It is best to mark out lines using a chalk line so you have something to follow, then keep following the plan and instructions. There is also advice on how to cut different types of tiles and the tools you need for the job.
If you are considering a natural stone floor, there is information and examples provided by Shaw Stone on the vast selection available and the advantages and different effects you can achieve by having a stone floor.