The Government's plans to reduce subsidies on solar panels has been thwarted following a defeat in court on Friday to appeal.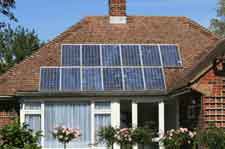 In November the government announced they were planning a reduction in feed in tariffs from 43.3p per kw to 21p per kw, and that they were bringing the date forward from April 2012 to 12 December 2011. This was only eleven days before the consultation period ended on 23 December. In January the High Court said this ruling was unlawful but the Government announced they would appeal against this.
The new ruling means that anyone having domestic solar installations fitted and finished before 31 March 2012 will still receive the higher 43.3p rate and anyone having them done after April 1st 2012 will now receive the 21p rate.
Energy and Climate Change Secretary, Edward Davey said "We are disappointed by the decision of the Supreme Court not to grant permission to hear this case. But the Court's decision draws a line under the case. We will now focus all our efforts on ensuring the future stability and cost effectiveness of solar and other microgeneration technologies for the many, not the few."