New 'How to Paint Skirting Boards' project
As we said last week, we have lots of new projects being added to the website over the next few weeks, and one of the latest is the 'Skirting Board Painting' project, which guides you through all you need to know.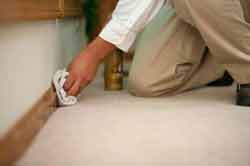 Not many people enjoy doing this job as it can be a bit fiddly but this project gives advice from the tools and material you will need, the preparation you need to do before you start including making sure you have your carpet or flooring protected, and then advice on the actual painting, from undercoat to gloss.
The key to painting skirting boards is not to rush. Take your time and don't overload your paint brush and you should avoid drips and unnecessary mess, and get a great result!