Cut VAT on home improvements
The National Home Improvement Council along with many other organisations including the Federation of Master Builders have been campaigning hard for several years now for a VAT on home improvements.
Supporters would like to see the current 20% rate of VAT cut to 5% on home repair, maintenance and improvement work. Campaigners maintain that this would:
Boost economic growth in the UK
Increase emplyment
Bring thousands of empty properties back into use
Improve the energy efficiency of our housing stock and reduce the incidence of fuel poverty
Help those who cannot afford vital repairs to their homes
Protect consumers and legitimate businesses by significantly reducing the competitive advantage of rogue traders. 
A more recent development is that in the Budget in March this year, the Government announced their intention to stop the current zero rate of VAT for approved alterations to listed buildings in October 2012 and raise it to the standard rate of VAT. Many organisations and individuals  feel this would have very serious consequences to historic buildings in this country and have started a e-petition. This is open for consultation until the 18th May.
There is lots more information on the Cut the VAT campaign and the research that has been carried out on www.cutthevat.co.uk where you can also find out how to get involved in the campaign.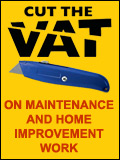 Let us know your views on this campaign either here or on our facebook page.