DON'T GET BLOWN OFF COURSE BY ROGUE TRADERS
With all this wet and stormy weather around the UK, TrustMark, the Government endorsed quality mark for tradesmen, is urging homeowners to be aware of rogue traders offering to do property repair work and to only use reputable and honest companies.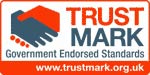 Stuart Carter, Head of PR and Marketing at TrustMark, said: "Whilst rogue traders operate throughout the year, there is likely to be an increase in their numbers following extreme weather conditions involving high winds, a cold weather snap and floods.  Bogus property repairers often trick people into paying high prices for unnecessary or shoddy work so I would advise consumers to be extra vigilant and only use reputable and legitimate tradesmen.   Never agree to have work done by somebody who turns up uninvited on your doorstep.
"TrustMark was set up six years ago to signpost consumers to good quality and trustworthy firms and to help homeowners select a local tradesman with confidence.  With more than 20,000 licenced trades searchable on our database by postcode, we are able to help people find a good quality firm enabling them to get the best job done at a fair price.  We want to give people a better-informed choice of tradesmen and if things don't go quite right, to provide a clear and easy to use complaints procedure to resolve any problems."
Below is a checklist that offers some simple steps for householders to repair their property following weather damage:
In the first instance check with your insurance company to see whether they have a procedure for dealing with damage as a result of the weather. 
If you do need to find a tradesman to do work, get quotes from two or three local firms and be specific with a detailed, clear brief of the work you want done.
Ask friends and family for a recommendation and check the TrustMark website at www.trustmark.org.uk to ensure that the tradesman is registered for the particular trades you require.
Use a firm that has a fixed address and uses a landline phone number.  Be very wary of those only willing to give you a mobile number.
Don't just go with the cheapest, consider your ability to communicate with the firm and their quality of their work.
Only pay for work that has been done and do not pay in advance.  Ensure that you obtain clear invoices of the work carried out and ideally pay by cheque or credit card.
If materials need to be bought in advance by the tradesman, it is reasonable that the customer is asked to pay a fair percentage of these costs as the job progresses.
Always use a written contract as it offers you protection should anything go wrong.
Agree in writing any changes to the agreed contract value and ensure these are made   in writing before the work is done.
TrustMark is the only scheme supported by Government, industry and consumer protection groups.  It has the support of many partner organisations, including the Trading Standards Institute and Citizens Advice which are aiming to raise standards within the industry and provide greater protection for householders in their search to find local, quality tradesmen.
For further information about TrustMark, visit www.trustmark.org.uk
If you are looking for a trustworthy and reliable tradesman you can click onto our 'Find a Tradsman' page on DIY Doctor to find Trustmark tradesmen in your local area.