Get your copy of Master Basic DIY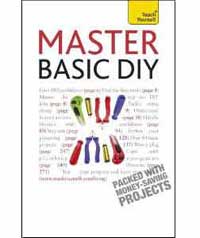 You are still able to get a copy of our 'Master Basic DIY' book direct from us. The book covers over 40 basic projects from bricklaying to loft insulation, laying floor tiles to repairing a burst pipe.
It has a wealth of information to help you understand your home and how it works, along with step-by-step instructions and diagrams on home improvement projects for the novice and more experienced DIYer.
The first half of the book focuses on the basics with great chapters tools, the top 10 DIY jobs for homeowners, and then has chapters on how your house is constructed including sections on home electrics and plumbing.
The second half of the book focuses on the 'projects', which are split into basics such as mixing concrete and bricklaying, then moving outside, you can learn how to, amongst others, build a soakaway, repoint a patio or build a timber deck. The section on projects inside the home includes partition walls, how to plaster, boxing in pipes and making shelves. Then there are also further projects under electrical, plumbing and decorating. 
If you know anyone just buying their first house or maybe taking on a property which needs some major home improvements, this book makes a great present. But it also is a great guide for any homeowner who just wants to understand their own home.
'Master Basic DIY' costs £7 including postage and packing (if you are having it delivered in the UK) and you can get sent a copy by clicking here and filling in your details.