Make your own paper orb lights
There are loads of decorative DIY crafting ideas out there but sometimes they catch our eye and we think are worth sharing.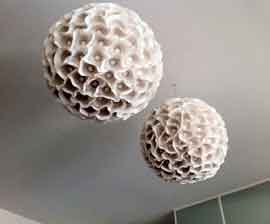 This one is not a difficult one to achieve but the result is a beautiful paper light shade which would make a great piece whether it is used as a light or not. You can see more pics on designsponge.com and there are full instructions. These were made by Heather Jennings of Poppy Haus.
The idea is simple – take a regular paper lantern type shade, then glue gun white paper cupcake cases all over the surface. Follow this by glueing smaller decorative petit fours papers inside each one – the ones shown in the pictures are ideal as they give a lovely anemone look to the shade.
If you need some advice on using a glue gun, take a look at our project which explains what they are and how to use them safely. A glue gun is a great help when doing craft projects but must be used with care as they do get very hot!