The Hamptons is one of the most affluent areas of New York,  so it's not the most obvious place to find a house made of shipping containers! But wait, this is no ordinary house, this is a 2,000 square foot beach house with four bedrooms, huge decked area, outdoor swimming pool and is 600 ft from the sea. It is also one of the most sustainable homes in the area with the most renewable materials used for the interior and most energy saving appliances. All made from 6 recycled shipping containers!
The Beach Box is up for sale and could be yours for a mere $1,395,000 (about £900k)……..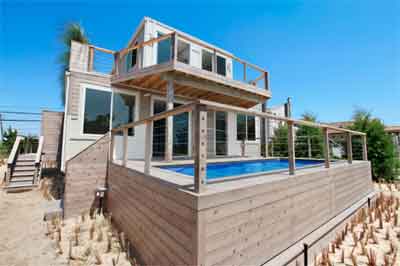 If you fancy building your own version in the UK, then visit our project pages to find information about self-build, and you could find a plot to put it on by clicking through to the Land for Development project.