Dont miss out on the Warm Front scheme
We have been concentrating on the Green Deal that will come into force later in the year but what about funding improvements to your home before then?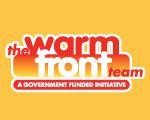 The Warm Front scheme is still running until March 2013 in England and allows households on qualifying income related benefits to have insulation and heating improvements carried out up to the value of £3,500.
If your house is poorly insulated or without working heating you will not have to pay providing the work costs less than the grant, but you must either own your own home or rent it privately and you must live in England. Other schemes are available for the rest of the UK.
People who may qualify include those in receipt of Pension Credit, or income-related Employment and Support Allowance that includes a work-related activity or support component.
Other people who qualify are those on Income-based Jobseeker's Allowance, Income Support or income-related Employment and Support Allowance in the assessment phase. Who also have a pensioner premium, a disability or severe disability premium, an award of child tax credit (that also includes an element for a disabled, or severely disabled child or young person), or a child under the age of five living with them
The 4 steps for applying for the scheme are
Step 1: Application
Step 2: Technical survey
Step 3: Allocation of a Warm Front installer
Step 4: Installation work
Anyone who has a gas heating system will also get an aftercare service including an annual service visit.
Apply for a Warm Front grant by clicking on the link or email to enquiry@carillionplc.comIf you prefer you can telephone 0800 316 2805 (or textphone 0800 072 0156) Lines open weekdays 8-6 and 9-5 on Saturdays.You can download and print a Warm Front application form Download a Warm Front application form (PDF, 394K) and send it to Carillion Energy Services, Freepost NEA12054, Newcastle upon Tyne, NE2 1BR
Other useful information
Other countries within the UK have their own schemes – click below