Trusting the Trustmark Logo
DIY Doctor is a staunch supporter of the Trustmark scheme to help homeowners find honest, qualified, insured tradesmen when they need work done on their homes.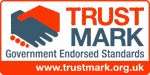 As the brand grows in popularity and gains kudos with the public Trustmark has become increasingly aware of dishonest tradesmen taking their logo and mis-using it to gain the trust of consumers.
It is easy for these tradesmen to illegally use the Trustmark logo, and it is difficult to stop it. However Trustmark is working hard with Trading Standards to monitor any unauthorised use of the TrustMark logo by any UK firm which is not a member.
They warn that they will take swift legal action against any offenders. Initially they will receive a letter notifying them that they do not have the right to use the logo and must remove all references from their website or company documentation within 14 days.
After that if the offender continues Trading Standards will get involved to take enforcement action.
You can check that the tradesman you intend to use is legitimately approved by Trustmark by going to their website and putting the name of the company or tradesman in the box on the bottom left hand corner of the home page.
Trustmark say "At the moment we have a number of on-going cases that are being actively investigated, pursued and dealt with."
Cowboy builders beware!
For more help on avoiding cowboy builders click here.