The National Home Improvement Awards – Finalists announced
DIY Doctor will be presenting at The National Home Improvement Show at Olympia in London at the end of this month. The show is the UK's leading exhibition for home improvers and brings together high quality suppliers, designers and experts. It is the ideal place for homeowners to source ideas and gather inspiration for any anticipated energy efficient home improvement project. Don't forget you can register for two FREE TICKETS to the show just by clicking on the banner below and filling in your details.

This year marks the fourth National Home Improvement Awards and is jointly sponsored by the National Home Improvement Council's Educational Trust and TrustMark, in conjunction with the show's organisers. Regulars to our blog will recognise TrustMark as being the Government-endorsed body working in partnership with DIY Doctor to eradicate cowboy builders.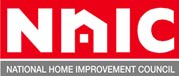 Five projects shortlisted for the new award
There will be awards for the winner and a runner-up announced from a shortlist of five completed home extensions. All submissions were closely assessed by the three awards Judges – Michael Homes, TV property expert and editor-in-chief of Real Home magazine; Andrew Leech, executive director of NHIC Educational Trust; and Roman Russocki, chief executive of TrustMark.
The public are invited to vote for their favourite home improvement project from the shortlist published on the award website http://nationalhomeimprovementawards.co.uk. The winner will be announced at The National Home Improvement Show on the 28th September.