Restoration Man needs projects to film for TV Show
Do you have a restoration project in mind, and would you like to have help from Architect George Clarke? (Gorgeous George as my mother calls him – sorry George!)
George Clarke presents Channel 4's Restoration Man and he is on the look out for next season's range of restoration projects to follow.
You may remember that George and DIY Doctor's Mike Edwards shared a stage at The Ideal Home Show last year and presented their Ideal DIY Dad of the Year award. So we are very fond of George and are happy to help him find the subjects for his next show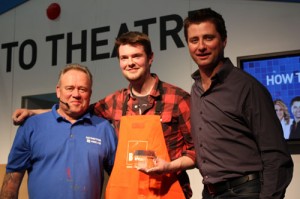 Production company Tiger Aspect are looking for owners of unusual historical properties in the UK and will follow your project from beginning to end while also investigate the historical background of the property
Ideas of what they are looking for include follies, military buildings, railway buildings and towers, but they will consider any other unusual buildings particularly Grade 1 listed properties.
To apply please contact the Restoration Man team on 0208 222 4042 or restorationman@tigeraspect.co.uk
We would also love to hear from you and if you send in your photos we will feature them, whether they make the show or not, please click on the comments line just below the title at the top of this page, to share your experiences.