Are we going to get a white Christmas? If we do we might want to start a few checks on our home to make sure the snow isn't going to cause any damage.
The thing we recommend more than any other is to keep a bag of Rock-Salt handy in the shed to spread if the weather forecast says snow for the following day. If you click on the image of the Rock-Salt, you will be taken to a page of winter tips on the DIY Doctor website. When you have read through, you can scroll to the bottom where you will see the same image. You can buy Rock-Salt by clicking on this. A bag costs about £5 and is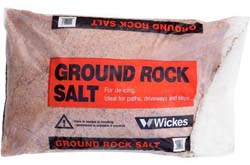 enough to do an average drive or path on 3 occasions. It is surprising how far it spreads and you really don't need a lot.
The easiest way to apply it is to open the bag at one end and fill a pouring jug. Then walk along your drive or path and sprinkle the salt as you go.
How does Rock-Salt work:
Rock-Salt works best when crushed, so walk up and down the path after you have sprinkled it. This allows the salt to mix with any moisture and turn into a brine, which freezes at lower temperatures and stops your drive being slippery.
Where does Rock-Salt come from:
Rock salt comes from the days, millions of years ago, when our islands were covered by the sea. As the sea evaporated and receded, salt remained. As the salt gradually got covered by dust and soil the pressure on top of it caused it to form into rock.
This rock is now mined by huge machines called continuous miners.
Stay safe this winter. Read our tips and buy some Rock-Salt.