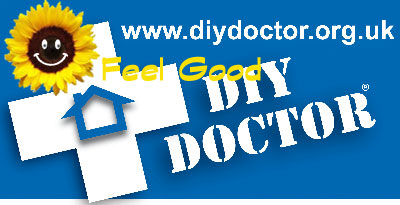 It's not exactly news that being more active makes you fitter, and many of you DIY Doctor users will identify with the thought that physically 'doing stuff' makes you feel better about yourself, and gives a sense of satisfaction to what you do.
In addition to the feel-good factor, moving around has many other physical benefits too. According to a report by the World Health Organisation (WHO) around 25% of breast and colon cancers, and 27% of Heart disease and Diabetes could be caused by a sedentary lifestyle. The human body just wasn't made for inactivity, and sitting down is killing us.
With this in mind we thought we would point out the health benefits of basic DIY and Home Improvement tasks.
We have researched and displayed the amount of Calories per hour for each task, as a guide to show the exertion involved, but it isn't just about weight loss it is also about decreasing blood pressure, improving mood, lowering cholesterol, and improving the immune system:
Mowing the lawn
Even with electric and petrol mowers there is a certain amount of physical effort involved so this could burn around 250 Calories, but this would be more like 325-425 Calories per hour if you use an old fashioned push mover. If you include fighting the machine out of the shed, and walking backwards and forwards to the compost heap you are getting a full body workout.
If you don't have a lawn to mow why not find out if an elderly neighbor could use help in the garden. This could benefit both of you if they do the easier tasks and you do the more physical ones, you get the health benefits of the work and the feel good  benefits of being outdoors and helping other people.
Gardening
Depending on what you are doing – gentle sowing, weeding and planting is a good all round exercise, but raking leaves, fencing, double digging, laying walls, or building a shed can be a very physical workout. 200 – 450 calories per hour.
Walking around a garden in the fresh air makes you feel good, improves your circulation, reduces stress and gives you sense of satisfaction when the work is done.
Snow shoveling
There has probably been a fair amount of this going on recently – expect to burn up about 415 calories per hour, and come back indoors with a warm glow.
Chopping wood
If you have a fire or log burner chop your own wood and get your heart pumping, but be very careful, wear leather gloves and safety glasses, for added protection against flying wood and splinters wear a leather apron. Approx 300 Calories.
Stacking and carrying the wood, as well as sweeping the fire and disposing of the ashes are also good physical activities.
Painting and decorating
Bending, stretching, climbing ladders, it is a work out in itself isn't it? This burns about 215 Calories per hour. However if you are also plastering, artexing, and doing your own carpentry this can be increased to 325 Calories.
There are lots of helpful guides in the DIY Doctor projects section if you want advice on how to decorate. If you haven't tried plastering but would like to have a go then visit DIY Doctor's plastering section for a 'How to' guide.
Sweeping up after yourself
Be honest, this may not be the thing you are best at but sweeping and mopping burn up about 240 calories per hour. If you are using a vacuum cleaner to clean up after yourself that uses similar amounts of energy and all involve movement lifting and walking around.
The health benefits of doing this is one thing but think of the Brownie points you will earn if you leave your DIY job looking finished, clean and tidy at the end. This increases the feelgood factor tenfold for you and spreads a warm glow into the heart of your partner too!
Washing the car
if you wash and vacuum your car, and give it a nice vigorous polish you can work up quite a sweat. There is lots of upper arm workout and cardiovascular activity, especially if you are carrying buckets of water rather than using a hose to do the job. 300-400 Calories.
You could even do a charity fund raiser offering to wash neighbors cars in return for donations to your favorite charity, get the children involved and away from their computer games for the day.
A cautionary note
Be careful to increase activity gradually, if you have not been doing anything physical. You could split tasks down to half an hour sections at first, building up to a couple of hours a day.
Be careful of your joints, if you have been sedentary you may find your wrists, knees and back are prone to injury. Vary the tasks you do over the time you have allowed and ensure you maintain a good posture.
Take regular breaks from very physical tasks and monitor how you are feeling, if you push yourself too hard and hurt yourself you won't want to start your DIY task next time.
If you are any doubt about your general health, ask your doctor's advice before making a lifestyle change.