DIY Doctors forum Questions – Garden abutting a wall, causing damp
A QUICK THANKS TO YOU
We just wanted to thank all our regular users on our forum for making it such a wealth of useful information for other users of the site.
When we originally started DIY Doctor in 2000 (wow 13 years ago – really?) the DIY Doctor tradesmen were able to answer all the questions that came via the site on a personal level by email.
As the site grew this became impossible to sustain if we wanted to remain a free site (which we do), so we set up the forum to allow our users to contact builders, GasSafe fitters, roofers, plumbers, gardeners and, well, any tradespeople in any trade really.
In addition we also welcome constructive feedback from users who have experience or want to share their knowledge on a particular Home Improvement subject.
USING DIY DOCTOR'S FORUM
Our forum is easy to use (we hope) it is divided into different home improvement and trade sections and you can search for subjects in the search box. There are links to active topics and unanswered questions if you want to get involved with someone else's questions.
We picked this one out of yesterday's DIY Doctor forum questions as an example. Garden abutting gable wall question on DIY Doctor Forum

We often get questions about damp including condensation, rising damp and (in this case featured above) ground levels causing a breach in a Damp Proof Course (DPC).
Damp can have very damaging effects on your house, if you would like to find out more about causes of damp then do visit our Damp Causes and Solutions in the Home DIY Project.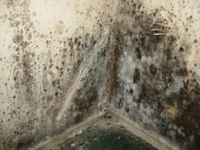 When you are reading through our Projects section you will also see related projects featured in a box to the left hand side. This makes it easy for you to read all the information we have on a subject, and if you still cannot find the answer that is the time to post a question on the DIY Doctor Forum.
You will need to register, but it is quick and free.