We are teaming up with those nice guys at Moneysupermarket.com to find out what you keep in your drawers.
As we all know, a good workman can be judged by his quality, and quantity, of good tools, so we wondered if you would share with us what you have in your 'Man Drawer' for those times when something needs fixing.
Does your Man Drawer look like this?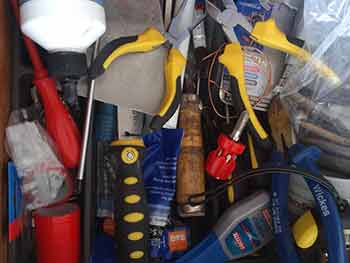 or more like this?
There have been many aspersions cast around recently, about the lack of practical knowledge and skill that we have nowadays, but we know our readers are a handy breed. So whether you are a man (or woman) with very little DIY Knowledge, or a serious Home Improvement Expert, we would like to know what you keep close to hand for those quick fixes.
Please take the survey What's in Your Man Drawer Survey it is a bit of fun; very quick and painless. Do share your Man Drawer photos with us – go to our contact page on our main site for ways to get in touch.