Why should DIY enthusiasts keep a well-stocked first aid kit?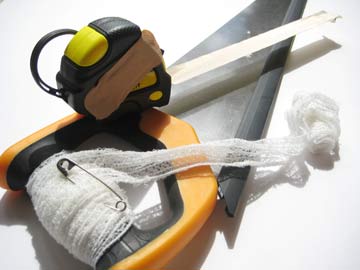 According to The Royal Society for the Prevention of Accidents (RoSPA), more than 5,000 people die and 2.7 million end up in hospital each year due to accidents in the home. Around 220,000 DIY enthusiasts seek medical attention each year with approximately 128,000 being injured by tools, machinery, ladders and stepladders – so how can we keep ourselves safe?
Well, RoSPA advises homeowners to plan each job carefully and wear the correct safety gear – such as gloves, masks and goggles – but it's also wise to keep a well-stocked first aid kit nearby just in case, click here to see a range from specialist suppliers Seton. While there's no set list of what should be included, the Health and Safety Executive recommends a basic list of supplies including:
20 individually wrapped sterile plasters
Whether you're cutting down a table or fitting a carpet it can be easy to get a scratch or graze. In fact, the Home Accident Surveillance System (2002) revealed that knives and scalpels cause around 21,300 accidents in the UK each year, so it's a good idea to have some sterile plasters to hand.  An assortment of sizes would be ideal and hypoallergenic variants should be used if you suffer from skin allergies.
Two sterile eye pads
If you're planning on carrying out some handy work – be it sawing chairs or sanding doors – sterile eye pads could come in useful. They're ideal for minor eye injuries and will help prevent any dust, dirt or grit from causing further irritation. To use, place the pad lightly over the eye ensuring there's not too much pressure on the socket and secure by tying some bandage around the head.
Four individually wrapped triangular bandages
Every year people are injured by concrete slabs, building blocks and bricks, metal bars and chipboard. Heavy objects can cause broken bones and blood loss, which is why triangular bandages are a must-have. They can be used to secure fractured collar bones and hands and can be easily transformed into a broad-fold bandage for sprains and strains or a sling for upper and lower arm injuries.
A pair of disposable gloves
You never know when you'll have to help someone else or deal with considerable blood loss, so keep some disposable gloves in your first aid box. They protect the casualty if the first aider has grimy hands and allow people to deal with bodily fluids more easily. Gloves are usually available in small, medium, large and extra-large, so make sure you get the right size.
DIY is a great pastime for many and can save you a fortune on builders and handy men, but keep health and safety at the forefront of your mind.