How do I know my builder is an honest tradesman? – Trust TrustMark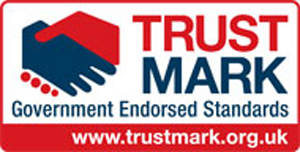 Regular DIY Doctor visitors know we support good building practices by promoting the use of our building contract and quality vetted tradesmen like TrustMark builders
One of the ways we help consumers find reliable building professionals is to recommend you use a registered insured tradesman when you need a builder. Our find a tradesman section features Trustmark registered builders to help you do this. We say this because they are approved and vetted by TrustMark, the only Government endorsed quality mark for the building industry.
Last month TrustMark reached out to more than 3.4 million consumers in BBC radio broadcasts across the country. The idea was to promote their service and to help anyone looking for a builder to find local, reliable, trades people.
Liz Male, Chairman of TrustMark, said: "The radio interviews have been a great way for us to communicate with consumers up and down the country and to raise awareness of TrustMark and our tradesmen. We need to put a stop to the rogue traders who continue to take advantage of unsuspecting and vulnerable people" The radio programs were broadcast on Local BBC stations, all the way from Scotland down to Northumberland, across from Wales to Kent and back to Cornwall.
Find a building firm you trust
If you are planning on employing a builder or building company, you want to be confident that you are using someone you can trust. Trustmark vet and register UK building firms, smaller general builders and if you need a more specialist tradesman, they have those too, such as a plumber, electrician, plasterer, decorator or landscape gardener.
DIY Doctor has been promoting the idea of a reliable system to help consumers find the builder they need for their building job for the last 5 years. This is why we introduced our 'Desired Outcome' Building Contract, which you can download from the site, along with guidance notes to help you plan your build step by step (with you builder) so everyone knows where they stand at every step of the process.
Why you should use a building contract
Reliable builders are usually happy to work with a contract, where Cowboy Builders are likely to run a mile if you ask them to discuss and commit to their plans and costs at the beginning of the negotiations.
Mike Edwards, Brand Manager for DIY Doctor comments "The DIY Doctor Desired Outcome Contract has been developed by a team of builders and legal experts in consultation with our customer focus group, to be sure that it protects the interests of both parties in a fair and equitable way."
See Mike explaining about the Contract and other ways to ensure you get a trusted tradesman for your build in the video below – there are also other explanatory videos and an interview between a builder and customer after using the Desired Outcome building contract on the DIY Doctor YouTube Channel.
http://youtu.be/biXd1iGnrms