Congratulations to the winner of our X-TEX Competition!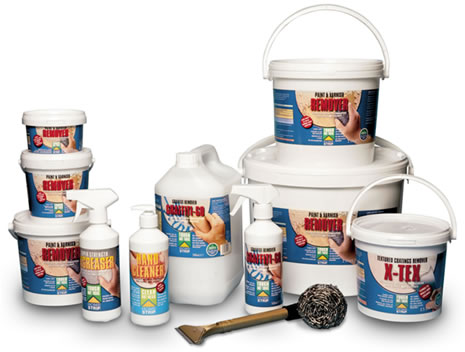 Congratulations Anthony!
Over the past couple of weeks we have been running a competition with our friends ECO Solutions to promote their great textured coatings remover, X-TEX. ECO Solutions' range of paint and coverings removers are different because they are water based rather than solvent based, meaning they don't contain any of the hazardous solvents that feature in most standard strippers – in fact, ECO Solutions' products are non-toxic. This makes them safer for you to use and safer for the environment as well. You can buy X-TEX as well as the rest of ECO Solutions' product range online and in stores – check out their website for more information. Thanks to everyone who took part in the competition – we can announce that the winner is Anthony Farrell, of PBA Decorating Services. We hope you enjoy your X-TEX Anthony!
How to strip paint and other coverings the safer way
ECO Solutions' motto is science, not solvents, and this is something that we can really get behind. At DIY Doctor we're always on the lookout for new products that are safe whilst delivering the same great performance that you expect from your DIY products, and ECO Solutions' products deliver just that. We talk about how to get the best out of their solvent free remover range on our stripping Project pages. ECO Solutions have created dedicated ranges for trade and DIY customers –here's a few of the products on offer:
Home Strip/Trade Strip Paint Remover – A non-toxic solvent free paint and varnish remover that requires no ventilation and can be used by asthma sufferers.
Brush Renew – This product brings your old, paint encrusted brushes back to life and removes both water and solvent based paints.
Hand Cleaner – A great al round cleaner to remove paint, ink, oil and any other stains from your hands without the harshness of a solvent formulation.
Graffiti Go! – A non-toxic, effective remover to finally get rid of any graffiti on your walls or fences.
PVCu Cleaner – A safer cleaner to remove all types of dirt from your PVCu windows and doors
X-TEX – And finally, X-TEX Textured Coatings Remover – this removes all kinds of textured coverings, including Artex, leaving your wall or ceiling ready for redecoration.
You can buy products from ECO Solutions' range for safe paint and covering stripping either online or in stores nationwide –  find your local stockist on ECO Solutons' website.