Garden Inspiration at the Southbank Centre
We went for a stroll in London on Saturday and came across this marvellous garden set up right by the Southbank Centre. It was called the Queen's Walk Windows Gardens and designed by Wayward Plants, an award winning garden design collective. The concept was based on just how much potential there is in a window box – it was very 'Allotment Chic', with it's use of mismatched, repurposed window frames, and we loved just how many plants they managed to showcase, including plenty of produce. They had some great ideas that you can use as inspiration in your own garden – take a look: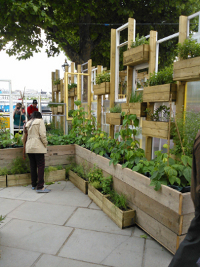 The entire garden was fed with water from the Thames that was drawn up and filtered right there by the garden. You can save energy and use nature's water supply to water your plants by installing a water butt – we have a guide on how to do this in our 'How to Install a Water Butt' Project page here.  For more garden inspiration, check out our Gardening Section.