How to Install a Wooden Door?
First select your doors
Though choosing a wooden door can sometimes be hard enough, one of the many predicaments that people often face is how exactly to install it.
Of course, not everyone has the privilege of being an expert carpenter or joiner, however with a little help you can get your door onto its hinges in no time, with the right advice, and we hope to help you with that here.
If you are about to select doors for your home there is a great door gallery for each area of the home at Oakwood Doors. They also stock locks, hinges and other door furniture.
Upon Delivery
The most important thing to do when you receive your new door is to check the quality; ensure that the components of the door, along with the protective packaging, has not been damaged.
This is important, as the appropriate moisture content must be maintained during the storage of the door in accordance with BS1186 parts 1 and 2 to ensure the quality of timber and joinery workmanship.
If you have to store the door for a short period of time, you should treat it as you would an expensive piece of furniture, if possible. Ensure that the door is stored on a flat surface in a dry, ventilated building.
Installation
Never use rule of thumb to install a door, you should use a range of tools to ensure that the door is fitted squarely, true and plumb and to the manufacturer's instructions.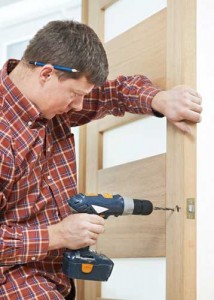 If you are fitting a door that weighs more than 20 kilograms or a door which would experience large temperature differences on opposing surfaces such as a front or back door, known as an External door, then three hinges should be fitted.
As some people want to install locks on doors, it is important to ensure that the locks do not cut through the joints of the door. Doing so will risk impairing the performance and structure of a rail joint.
For those installing fire resisting doors, it is important to note that these should not be altered on site, such work should only be carried out with the approval of the door manufacturer and a local fire officer.
Finishing
If a door is not finished, upon delivery you should apply the finishing coats as soon as you have checked that all surfaces and edges are in good condition.
External doors, as you can imagine, should have more care taken to ensure that no gaps within the coat have been missed. Only use quality paints or 'high build' stain. A low quality stain should not be used on any external door whatsoever, because it will not offer the appropriate protection for the door.
As many craftsmen will tell you, the secret to a smooth finish is a series of sanding stages. If you do wish to sand the door down, work with the grain and work with progressively finer sandpaper.
Three coats of wood stain should be applied to exterior doors alongside two coats of preservative.
If you are installing an internal door, one coat of preservative and three coats of wood stain should prove adequate.
The type of wooden door you select should not change the number of coats of your chosen finishing product that are necessary. Whether it is an Oak wood, pine or beech door, the above guide to the number of coats should be all your door needs.
Maintenance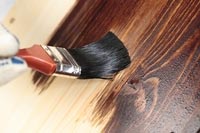 To ensure that your door is properly cared for, check all parts of it at least twice a year and carry out work as required.
Manufacturers often provide a two to three year warranty on their doors. However, making it last as long as possible is important, and can save you large amounts of money in the long run.