What's all this rubbish about DIY levels falling? B&Q may be struggling but the industry is fine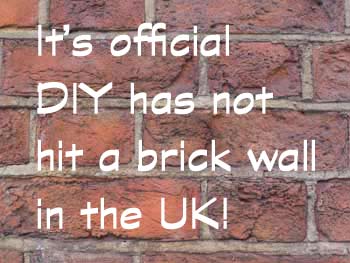 British People Love DIY – or We Do When the Sun Shines
The media is banging on about how interest in DIY is falling in the UK, the latest of these reports comes from the London Evening Standard who are convinced that the DIY universe consists of the big sheds like B&Q.
In James Thompson's article the chief executive of Kingfisher Group, owner of B&Q and Screwfix among other UK home related businesses, admitted a drop in profits after a wet spring has impacted their sales in the last quarter, but he doesn't see this as a long term decline and neither does DIY Doctor.
What we think is that British people are as keen as ever to look after their properties, but they are being careful about how they spend their money to do this.
Also we like a bit of sun to spur us into action when it comes to DIY, statistics show that DIY spending follow weather patterns, with warmer weather encouraging higher spending on Home Improvements.
Consumer Patterns are Shifting Due to the Economic Squeeze
DIY Doctor has noticed that our readers are switching away from out-of-town stores and are getting creative about upcycling, and reusing products to save money on jobs around the home. This inventiveness accounts for a lower DIY spend because DIYers are using their initiative and finding a way to re-purpose items rather buying new materials.
Many Home Improvers and self-builders are looking for individual or older items in reclamation yards, and car boot sales, buying from eBay to bag a bargain, and using Freecycle, swap sites and Preloved to make use of something that is no longer wanted by someone else.
The other shift in consumer patterns is the way people are utilising the internet to source tools and materials through online shops, which deliver to their home rather than trekking out to the DIY sheds. Screwfix offer great customer service with next day delivery options and a simple returns service so where B&Q may be losing with one hand they are gaining on the other.
Customers Begin to Favour Knowledge Over Size
We have also noticed an underlying interest in the specialist knowledge available in local hardware stores. Just as Mary Portas is championing the high street, and the slow food and local food markets are all discovering renewed interest by consumers who want to buy from local suppliers who are engaged and experienced, and we are convinced that the DIY market is starting to look around for suppliers with honest, experienced knowledge, who can give advice on tools and materials and how to use them for each job the Home Improver is taking on.
After all who wouldn't want to be served by a man in brown overall?
Fork Handles anyone?
http://youtu.be/Cz2-ukrd2VQ