10 Energy Saving Tips to Save Money on Your Energy Bills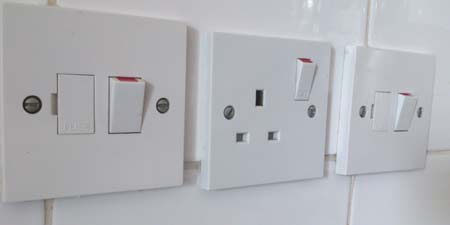 We want to share with you DIY Doctors best energy saving tips to save you money, by using less energy.
There are lots of energy saving products on the market including energy saving light bulbs, which we are all familiar with by now, but other energy saving devices includes fridges, washing machines and boilers. Look out for A rating stickers when you buy new appliances.
It makes sense for homeowners and tenants to employ energy saving ideas, and they don't even have to cost you any money to implement, as you will see from our energy saving methods below:
1. Insulate your loft
This is the most cost efficient energy saving home Improvement project you can carry out in your home, and you can find our how in our DIY Projects.
2. Have cavity walls insulated
If your walls are not already insulated then this is an excellent energy saving Home Improvement project which will save you up to 30% of your homes heat loss, find out more in our DIY Projects on Cavity Wall Insulation.
3. Draughtproof your house
If you can feel cold air coming through windows and doors then heat is escaping. You can loose up to 20% of your home's heat lost though drafts. Find out how to fit draft excluders to windows and doors and stop drafts in our DIY Projects section.
4. Fill in any cracks around window frames and along skirting boards
If you have exposed floorboards you may need to fill in cracks between floorboards to stop draughts, and we explain how to do that in our DIY Projects section.
5. Turn down your hot water to 60 degrees C
If you water thermostat it is set higher than sixty degrees, then your system will simply add cold water to it to bring it down to this safer temperature, so you are wasting energy making it hotter than it needs to be. This is free to implement too.
6. Turn down your room thermostat by 1 degree
Another free energy saving measure, this costs you nothing but may save you up to 5% of your energy consumption, and it is unlikely you will notice the difference in terms of feeling warm and comfortable.
7. Don't heat unused rooms
This also costs nothing, simply turn off the radiator or heater in an unused room, and close the door to keep the other rooms warm. Please note that you should 'air' the room and check for condensation each day, because this room will be cool, and you do not want the air to become stale causing mould and mildew, see our condensation project for more information.
8. Energy saving Grants
There are lots of Government initiatives to encourage homeowners to implement energy saving products. You can find out more on our sister site BeEnergySmart on their Grants and Offers pages, and there is more information about the grants available on the Energy Saving Trust website.

9. Fit a new A-rated gas boiler
Old boilers are inefficient and costly to run you can find out more about new Combination Boilers in our Projects Section.
10. You could save money by switching to a new energy supplier
You can check out the tariffs available on any number of energy comparison websites we like the one by Which called Which Switch – we are a sucker for a rhyme! Saving energy also helps to reduce the impact on the environment and you can improve this further by using green energy where possible. You can definitely make your energy more Green by using an eco package from your energy supplier, if you are not already doing so, Eco packages are available from most Energy Suppliers.